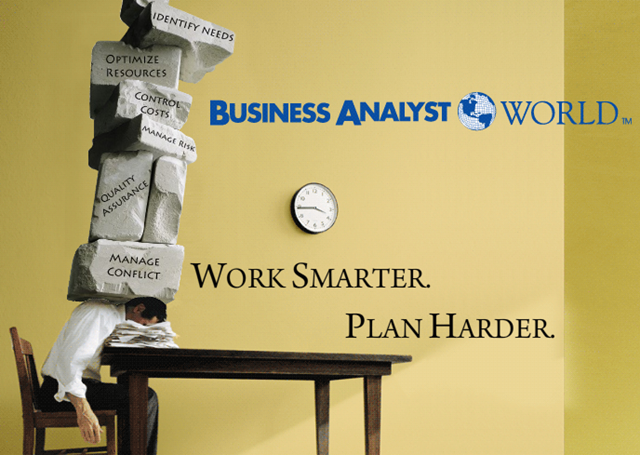 Everyone that writes on the role of the business analyst eventually has to cover their take on what the role actually is about.
One of the best
articles I read
when doing research for my own position was by Jan Kusiak and Derek Brown. Last year I met Jan at the BA World conference and had a friendly argument about the value that a BA should provide.
My take went straight to the top of the startegic apex. A business analyst needs to be able to link their contribution to the organisational mission.
Jan countered with the fact that BAs develop their career over time and usually come out of frontline operations areas, first as an SME in either a business area of technology domain. He explained that a fledgeling analyst needs to master the basics of the role; communication, systems thinking and so on, before elaborating and extending their capabilities.
It takles a while, it seemed he was saying to me, for a typical analyst to really build their skills to a level that gives them the ability to get to where I think they (we) should be operating.
Fair enough. Everyone has their own path.
Anyway, RQNG has just published an updated version of Jan and Derek's take on "What is a BA."
If your work with business analysts, if this is your job today, or if you want to become a BA this is a great read.